GLOBAL CITIZEN & GLOBAL CITIZEN FESTIVAL
There are many aspects to working with this client. I have provided app design and general graphic design work for them as well as helping develop strategic marketing strategies. The Global Poverty Project is in the midst of an ongoing effort of bringing awareness to all of humanity about the need to end extreme poverty on a global level.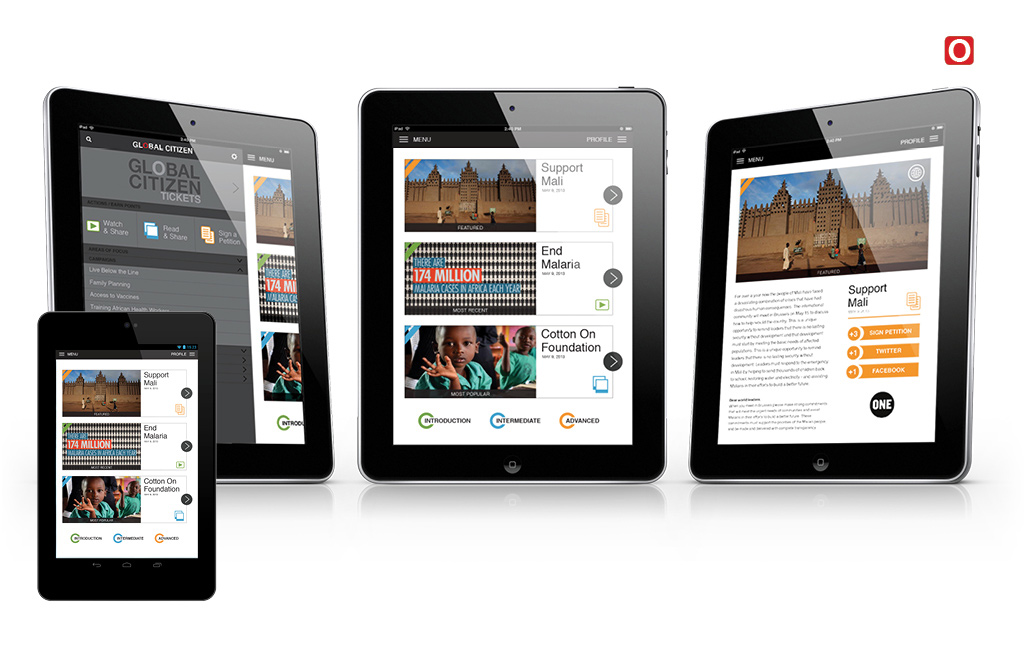 GLOBAL CITIZEN// APP REDESIGN
[design, IA, UX, client interface]
PURPOSE - To educate users and encourage them to get involved with awareness campaigns that focus on helping to end extreme global poverty.
CHALLENGE - The app contains a large amount of content. All content is meant to be accessed from any point during the UX with as few steps as possible allowing users to quickly change between task flows. Get users to take action!
SOLUTION - Redevelop the information architecture integrating side navigation to increase the visibility of all action items.
GLOBAL CITIZEN// BILLBOARDS
[concept, design, client interface]
PURPOSE - Create a billboard campaign for New York City that would stand out amongst the noise. Several of the billboards were strategically placed around the city and in Times Square in both print format and digital. Due to the short window of opportunity to catch the city's attention we needed to be bold.
GLOBAL CITIZEN FESTIVAL// DECK
[concept, design, client interface]
CHALLENGE - Recreate the GPPs (Global Poverty Project) general informational deck for a high profile event. The purposes of the deck was to gain high level sponsorship of over one million dollars from each donor.
SOLUTION - In order to better distribute a large amount of information while keeping a clean design aesthetic I was able to deliver a 12 page deck that also helped create an actual brand. There were subsequent decks created that were tailored to specific prospects.
This image was created for Facebook social sharing and received the highest amount of shares and likes of all the social images used during this campaign. 11,120 likes / 699 shares / 206 comments
GLOBAL CITIZEN FESTIVAL// SOCIAL IMAGES
[wrote campaign strategy, concept, design, client interface]

CHALLENGE - Drive traffic to social sites for the festival and increase visibility through social channels for the Global Citizen platform. Increase numbers drastically in less than two months.
SOLUTION - Create a social image sharing strategy focusing on Twitter and Facebook. The images consisted of curated content that was presented in a way which further established the brand. A schedule was created and images were designed to reflect the brand's social objectives.
OUTCOME - The campaign was highly successful and the sharing of social images was one of the largest contributors to the publicly praised success. The overall social campaign ultimately garnered 2.1 billion impressions across all media platforms.
Twitter
1. 10,379 new followers
2. 74,053 replied & retweets
3. 306,772 mentions
4. 819 million impressions
5. Worldwide trending topics for hastags #GlobalCitizen & #GlobalFestival on multiple occasions.
6. #GlobalCitizen hashtag received 267,616 mentions
Facebook
1. 21,902 new likes
2. 3,501 comments
3. 4,219 mentions
4. Reach 5,466,754